SECTION I: Case Study
Model These Successful Practices
Sick…Depressed…And Desperate…
THIS Is How I Turned It ALL Around…
Many of my readers and patients are surprised to discover I was not always the energetic, positive person they know today.
In my early 20s — while I was still slogging away at med school — I slowly became very, very sick. As my health deteriorated, I spent thousands of dollars…saw countless experts…and, eventually, questioned my sanity while looking for a cure. Most frustrating of all, I even had my family doctor, an intern and an endocrinologist tell me there was NOTHING wrong with me.
It wasn't until I spent my last $300 on a consult with a FM doctor that I was diagnosed with intestinal inflammation. It was from this point on that my healing finally began. I was so moved by this experience that I decided to shift the focus of my studies entirely.
Of course, I still finished my degree, holistic studies, and had my exercise qualifications in my back pocket. But in my heart, from that moment on, I was dedicated to functional medicine. And in the last few years, I have helped hundreds of patients recover from similarly devastating symptoms using what I've learned.
In fact, some of their symptoms and stories are so similar to mine that it is, quite frankly, frustrating.
Functional medicine is STILL not reaching the people that need it most.
And medical professionals are STILL engaging in needlessly complex testing.
But rather than complain about it, I'm going to do something. I'm launching my The Future of Functional Medicine Clinical Membership. It's my hope that it will equip functional medicine practitioners with the fundamental information they need to be a truly effective clinician.
The first section of your monthly Review includes a detailed case-study demonstrating what cost-effective functional medicine looks like, in practice. The goal is to give you an 'insider view' of my own clinic — what kind of tests I run…how I interpret them…how I reduce costs…and how you can apply the same techniques and principles in your own practice. You'll even discover how I communicate and frame delicate issues with my patients. Plus, we'll spend some time discussing how you can use a negative reaction from a patient in order to grow as a clinician (rather than feel confused or unsure).
Each case study will include:
Patient information
History and exam details
Testing and initial recommendations
Lab interpretation and treatment evaluation
Assessment
Recommendations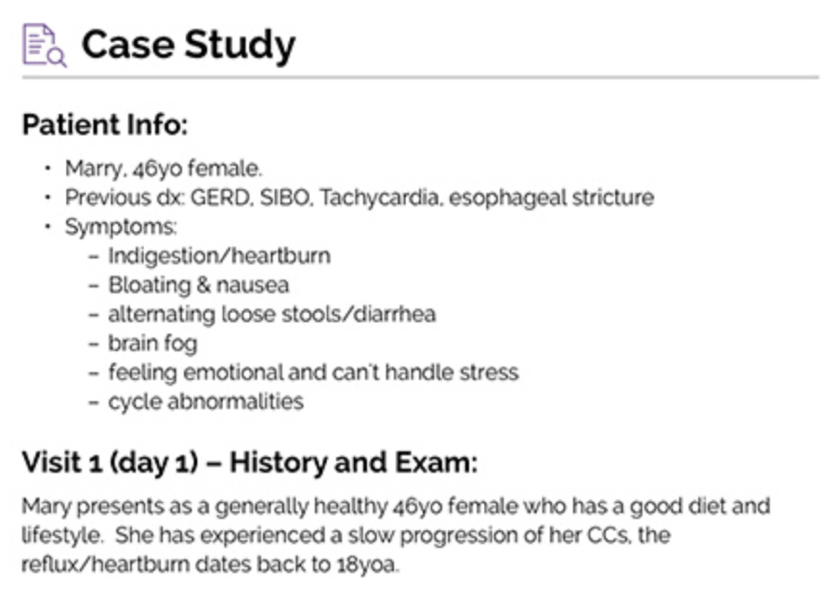 And my own personal comments on each particular case.
This is the kind of information I would have killed for when I started experimenting with a simpler model in Walnut Creek. I believe these case studies will shave months, if not years, off your transition to a more effective type of functional medicine.
In short, I'm including these case studies because I believe they are the simplest way to help you treat more patients, more efficiently.