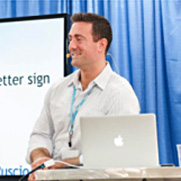 Dear Colleague,
How can we be better at functional medicine? How can we deliver better outcomes, in less time and with less money? We can achieve this by practicing efficacious and cost-effective functional medicine, and this can be achieved if we do two powerful things:
1. Master the gut and
2. Focus on the most clinically relevant testing and treatment.
It is no secret that problems in the gut can cause what looks like a litany of other symptoms or conditions, including hypothyroid, adrenal fatigue, toxicity, hormone imbalance, inflammation, fatigue, and depression. By mastering the gut, you can get to the source of many of these issues and thus prevent unneeded testing and treatment.
While we all appreciate progressive lab testing, much of what is used in the field has not been shown to have clinical relevance. Ordering the wrong testing wastes time, money, and distracts us from finding the actual cause of a problem.
To learn how to practice more efficacious and cost-effective functional medicine, I've created a monthly newsletter, the Future of Functional Medicine Review Clinical Newsletter. In every monthly edition, we will review:
1 case study – illustrating what this model of functional medicine looks like
3-5 research study summaries – I sift through all the latest research, then bring you the best and most important studies, delivered in an easy and quick to read summary
1 practice tip – office tools, training systems, hiring tools, things I've learned, etc.…
1 practitioner question of the month
Examples – here are some example of the case studies and research studies from the past few months.
January
Case study: Histamine intolerance that presented as what looked like a SIBO relapse
Study summary: Crucial updates for interpreting thyroid (TPO) antibodies
February
Study summary: Low carb diets and thyroid autoimmunity
Study summary: Berberine and probiotics in IBS
March
Case study: Marked improvement after referring for abdominal adhesions in chronic SIBO
Study summary: H. Pylori and autoimmunity
April
Case study: Rapid resolution of thyroid nodules
Study summary: Repeat use of Rifaximin for diarrheal type IBS
Study summary: Vitamin D improves thyroid autoimmunity in those already on levothyroxine
May
Case study: Successfully co-managing Graves' disease
Study summary: Mast cells, histamine, and IBS
June
Case study: When to not treat stool test findings
Study summary: Important SIBO breath testing interpretation updates according to the North American consensus
When joining, you get access to all these editions of the newsletter and every monthly edition to come.
By practicing efficacious and cost-effective functional medicine, we can reach and help more patients. This is essential for the field, and our practices, to grow. To learn more about how to make your practice of functional medicine more effective, less time consuming, and less expensive, please join a growing group of clinicians who are part of our monthly clinical newsletter, The Future of Functional Medicine Review, here.
In health,

Dr. Michael Ruscio