If you need help using this information to become healthier, click here
In Case You Missed It
On Monday, we discussed the sun, blood pressure, and vitamin D.
On Wednesday's podcast release, we spoke with Mickey Trescott and Angie Alt to discuss simple steps to wellness with autoimmunity.
---
Dr. Ruscio's Weekly Tip
In this week's tip, we discussed practical tips to live well with autoimmunity.
---
Latest Research
Amazing recent findings regarding the microbiota
"suggests that at least 50-60% of the bacterial genera from the intestinal microbiota of a healthy individual produce resilient spores, specialized for host-to-host transmission. Our approach unlocks the human intestinal microbiota for phenotypic analysis and reveals how a marked proportion of oxygen-sensitive intestinal bacteria can be transmitted between individuals, affecting microbiota heritability."
Translation: there is a bunch of bacteria in your gut that you transmit to others and they transmit to you. Get healthy friends!
Does triclosan, a common antibacterial agent found in cosmetics, effect the microbiota?  A recent study suggests it does not.
Prolonged sitting may have a negative impact on nighttime heart rate variability, irrespective of how much you exercise.
No surprise here, but a recent study found that higher glycemic index and glycemic load diets, coupled with lower fiber intake, significantly increase risk of polycystic ovarian syndrome.
A large study examining observational data regarding subclinical hypothyroid and cardiovascular disease shows the higher one's TSH goes, the higher the risk for CVD.  However, the extent to which treatment with thyroid hormone decreases this risk is still unclear.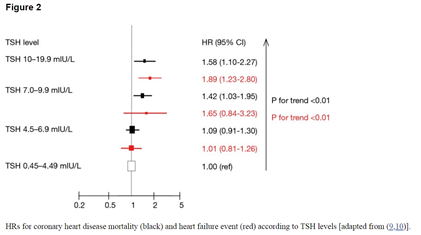 ---
Laugh a Little!
---
Healthy Foodie
Gluten Free School: Gluten-Free Sugar-Free Coconut Almond Bark
Monica Bravo: Grain Free Chocolate Cake Recipe
Andrea Beaman: Dandelion Fennel & Apple Salad with Toasted Milk Thistle Seeds
Jackie Ritz: Asian Lettuce Wraps with Coconut Cauli-Rice
---
Happiness Homework 
Connect with a friend or significant other through conversation, even if it's just for 5 minutes of your day.
---
Dr. Ruscio's Quotable
Smile in the mirror. Do that every morning and you'll start to see a big difference in your life.
— Yoko Ono
If you need help using this information to become healthier, click here
What do you think? I would like to hear your thoughts on the research, recipes and other info above.
I care about answering your questions and sharing my knowledge with you. Comment below with any health question you may have and I will incorporate it into our new monthly podcast just for you!
Dr. Ruscio is your leading functional and integrative doctor specializing in gut related disorders such as SIBO, leaky gut, Celiac, IBS and in thyroid disorders such as hypothyroid and hyperthyroid. For more information on how to become a patient, please contact our office. Serving the San Francisco bay area and distance patients via phone and Skype.