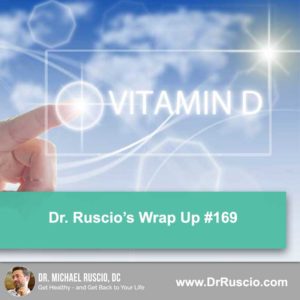 In Case You Missed It
On Monday, we discussed an affordable & effective electric toothbrush.
On Wednesday's podcast release, we spoke with Melanie Avalon and Gin Stephens and discussed fasting and gut health, finding your right diet, inflammation, and more.
Latest Research
A fair percentage of patients with celiac disease will continue to have long-term gastrointestinal symptoms even when they adhere to a totally gluten free diet.
---
A 12-week low carbohydrate, high fat (LCHF) diet improves metabolic health outcomes over a control diet (high-carbohydrate, low-fat diet) in a randomized controlled trial with overweight defense force personnel. According to this study, this LCHF dietary approach shows promise for short-term weight loss and improved metabolic health outcome conditions compared with mainstream recommendations.
---
Thyroid autoantibodies were significantly decreased by vitamin D replacement treatment in patients with euthyroid Hashimoto's thyroiditis. Also, HDL cholesterol concentrations improved in the euthyroid Hashimoto group after treatment.
---
Oral supplementation with high-dose vitamin D3 at 10,000 IU daily significantly improved serum 25-hydroxy-vitamin D levels in patients with Crohn's disease in remission. Larger studies/clinical trials using high-dose vitamin D3 for treatment of inflammatory bowel diseases are warranted.
---
Emerging data show that about 30% of people with schizophrenia have elevated antigliadin antibodies of the IgG type, representing a possible subgroup of schizophrenia patients with immune involvement. A trial of Gluten Free diet is warranted in neuro conditions.
Laugh a Little!
Healthy Foodie
Nom Nom Paleo: Spicy Tuna Cakes
Gluten-Free Living: Gluten-free Clam Chowder Recipe
Heart Beet Kitchen: Spaghetti Squash Hash with Bacon & Kale
Bloom & Nourish: Banoffee Pie
Happiness Homework 
Go to a gig and dance like crazy.
Dr. Ruscio's Quotable
"We should not give up and we should not allow the problem to defeat us."
— A. P. J. Abdul Kalam

What do you think? I would like to hear your thoughts or experience with this.
Dr. Ruscio is your leading functional and integrative doctor specializing in gut related disorders such as SIBO, leaky gut, Celiac, IBS and in thyroid disorders such as hypothyroid and hyperthyroid. For more information on how to become a patient, please contact our office. Serving the San Francisco bay area and distance patients via phone and Skype.