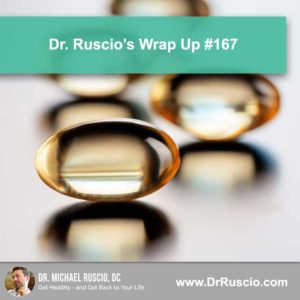 In Case You Missed It
On Monday, we spoke with Sal Di Stefano from Mind Pump and discussed brain fog.
On Wednesday, we spoke with William Seeds and discussed peptide therapy for anti-aging, gut healing, tissue repair & immune function.
Latest Research
Patients affected by IBS seem to have benefitted from a low FODMAP diet but not from an SCD, and a low FODMAP diet doesn't seem to cause vitamin D and folic acid deficiencies in the same statistically significant way that the SCD diet does.
---
Administration of prebiotics, probiotics, and synbiotics during pregnancy, lactation, and postnatal life appears to be a safe and feasible method to alter the maternal and neonatal microbiome, thus improving pregnancy and neonatal outcomes.
---
Maternal supplementation with fish oil might have prophylactic potential for long-term prevention of asthma in offspring. A randomized controlled trial included 533 women who were randomly assigned to receive fish oil during the third trimester of pregnancy (others were given olive oil or no oil at all). The offspring were invited to complete a questionnaire (74% participated) and attend a clinical examination (47% participated) at age 18 to 19 years. The probability of having had asthma medication prescribed was significantly reduced in the fish oil group compared with the olive oil group.
---
Latent autoimmune diabetes in adults (LADA) is a slowly progressive form of autoimmune diabetes, characterized by diabetes-associated autoantibody positivity.
---
In a study of two of Helicobacter pylori (HP) infected patients, both cases had celiac-type crypt hyperplastic mucosal injury in the distal part of the duodenum in the absence of serum autoantibodies and subepithelial IgA deposits. After two years of follow-up, having still a normal gluten-containing diet, none of the patients developed Celiac Disease (CD). Moreover, in the patient re-biopsied two years later, the CD-type enteropathy had healed after HP eradication.
Laugh a Little!
Healthy Foodie