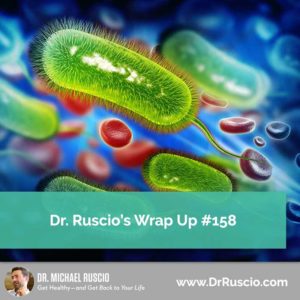 In Case You Missed It
On Monday, we discussed why Elemental Heal is the best tasting one on the market.
On Wednesday's podcast release, we spoke with Dr. Jon Kaiser and discussed if your mitochondrial function is causing fatigue and brain fog.
Latest Research
What can be done to improve the efficacy of eradication therapy for H. pylori? According to this study, an increase in daily dose and length of time are key.
"Using potent acid inhibition and/or higher antibiotic doses-especially by increasing the number of daily intakes-and lengthening treatments up to 14 days improves efficacy in most regimens and should be generally recommended. Triple therapies can be efficiently improved by the addition of bismuth salts, turning them into quadruple therapies. Finally, some treatments will require a combination of optimization strategies to significantly improve results."
---
Tanning beds have been a target subject for health risk assessment. Now there is clinical research that supports those health risks:
"the subsequent occurrence of melanoma and nonmelanoma skin cancers, the development of psychologic dependence, and a tendency toward other high-risk health behaviors.
In the face of mounting evidence, the restriction of access to tanning beds by minors in 42 states and the District of Columbia, and the recent reclassification by the Food and Drug Administration, which now categorizes tanning beds as class II devices and worthy of restrictions and oversight."
---
A pilot study was designed to determine the clinical, biochemical, and tolerability of intermittent fasting (IF) in volunteer adults with Type 2 Diabetes (T2DM).
"The results from this pilot study indicate that short-term daily IF may be a safe, tolerable, dietary intervention in T2DM patients that may improve key outcomes including body weight, fasting glucose and postprandial variability."
Longer studies are needed to confirm these exploratory findings.
---
A study was conducted using nationwide data from Korea, known to be replete with iodine, investigating iodine intake and its impact on the distribution of serum TSH levels.
"This first nationwide survey demonstrates more than adequate iodine intake and a right-shifted distribution of serum TSH levels in the Korean general population."
---
Iodine has been identified as a worldwide health problem. Children are especially at risk. One study was done on schoolchildren aged 6-7 to assess iodine (I) status and thyroid function.
"Iodine intake was adequate in Spanish schoolchildren. However, no correlation was found between TSH and median urinary I (UI) in any geographical area. Further assessment is needed"
Laugh a Little!
Healthy Foodie
Skinny Taste: Easy Garlic Knots
PaleoLeap: Tomato and Cucumber Gazpacho
Taste Made: Broiled Skirt Steak
PaleOMG: Brownie Batter Sweet Potato Collagen Shake
Happiness Homework 
Call a good friend or family member just to say you were thinking about them.
Dr. Ruscio's Quotable
"Success is the result of perfection, hard work, learning from failure, loyalty, and persistence."
— Colin Powell
What do you think? I would like to hear your thoughts or experience with this.
Dr. Ruscio is your leading functional and integrative doctor specializing in gut related disorders such as SIBO, leaky gut, Celiac, IBS and in thyroid disorders such as hypothyroid and hyperthyroid. For more information on how to become a patient, please contact our office. Serving the San Francisco bay area and distance patients via phone and Skype.