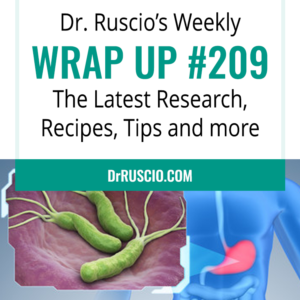 In Case You Missed It
On Monday, we spoke with Steph Gaudreau and discussed how to move toward holistic health.
On Wednesday,we spoke with Dr. Julian Abel and discussed the importance of community interventions in healthcare.
Latest Research
Helicobacter pylori (H. pylori) is the main cause of chronic gastritis, a major risk factor for gastric cancer and has also been considered a potential trigger of gastric autoimmunity.
This study looks at the current evidence in support or against the role of H. pylori as a potential trigger of autoimmune rheumatic and skin diseases, as well as organ specific autoimmune diseases.
---
The data from this study shows that infection with H. pylori is associated with increased systemic inflammation.
"This suggests one potential mechanism to explain the extra-gastrointestinal conditions associated with H. pylori infection."
---
In recent years, low grade inflammatory infiltration, often rich in mast cells, in both the small and large bowel, has been observed in some patients with IBS. Therapies targeting mast cells, such as mast cell stabilizers and antagonists of histamine and serotonin receptors, have been tried in IBS patients, and have partially exhibited considerable efficacy.
Laugh a Little!
Healthy Foodie
Joel Runyon: Bacon and Chive Scones
Sébastien Noël: Grapefruit and Watermelon Salad
Elana Amsterdam: Paleo Shepherd's Pie
Mike: Mango Spinach Chia Smoothie
Happiness Homework 
Create a habit tracker to help you accomplish your goals.
Dr. Ruscio's Quotable
"Difficulties are meant to rouse, not discourage. The human spirit is to grow strong by conflict."
— William Ellery Channing

What do you think? I would like to hear your thoughts or experience with this.
Dr. Ruscio is your leading functional and integrative doctor specializing in gut related disorders such as SIBO, leaky gut, Celiac, IBS and in thyroid disorders such as hypothyroid and hyperthyroid. For more information on how to become a patient, please contact our office. Serving the San Francisco bay area and distance patients via phone and Skype.