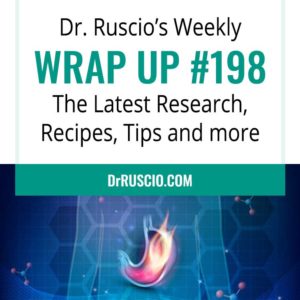 In Case You Missed It
On Monday, we spoke with Phyllis and discussed 3 game-changing probiotics.
On Wednesday's podcast release, we spoke with Dr. Titus Chiu and discussed specific tests and tips for detecting a brain to gut problem.
Latest Research
Generally patients suffering from hypothyroidism may express few symptoms. In this study, neither the presence nor absence of any individual hypothyroidism symptom was reliable in the decision making of who should have their thyroid function tested.
---
A lactulose breath test appears to be useful in predicting response to antibiotics in patients with IBS. A hydrogen + methane rise <20 ppm throughout the duration of the test is most predictive.
---
This study found a 100% regression of symptoms in people suffering from GERD when taking a dietary supplement containing: melatonin, l-tryptophan, vitamin B6, folic acid, vitamin B12, methionine and betaine (with no significant side effects). There was a 65% regression of symptoms for the patients in the study taking omeprazole.
Laugh a Little!
Healthy Foodie
Elana Amsterdam: Paleo Mini Bagels
Sébastien Noël: Irish Kidney Soup
Emma Swanston: Spicy Tuna and Tomato Burgers
Rebecca Bohl: No-Bake Walnut Cookies
Happiness Homework 
Pet an animal (visit a petting zoo, animal shelter, or pet shop if you don't own one).
Dr. Ruscio's Quotable
There is virtue in work and there is virtue in rest. Use both and overlook neither.
—Alan Cohen

What do you think? I would like to hear your thoughts or experience with this.
Dr. Ruscio is your leading functional and integrative doctor specializing in gut related disorders such as SIBO, leaky gut, Celiac, IBS and in thyroid disorders such as hypothyroid and hyperthyroid. For more information on how to become a patient, please contact our office. Serving the San Francisco bay area and distance patients via phone and Skype.