In this episode of Dr. Ruscio Radio, the doc interviews Dr. Dan Kalish, DC, pioneer of The Kalish Method, which solves patient challenges through a proven lab based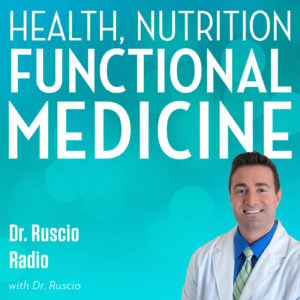 mentorship program addressing the three key areas of Hormones, GI and Detoxification. Many people suffer from depression, anxiety, fatigue, focus problems and other brain related issues because they have an inflamed brain. Inflammatory mediators can be triggered from a variety of sources including the food we eat, environmental toxins, and GI tract problems. They discuss what you can do to reverse low neurotransmitter levels using natural and safe non-drug treatments.
Topics:
Episode intro…..2:27
Major types of brain related problems…..3:14
Dr. Kalish's four-category approach…..6:03
Causes of brain inflammation…..14:13
Histamine intolerance and brain inflammation…..24:43
Urinary neurotransmitter testing…..27:45
Brain inflammatory markers…..39:28
Episode wrap-up…..42:43
Links:
Download Episode
Right click on link and 'Save As'

Depression, Anxiety, Inflammation & The Brain with Dr Dan Kalish
Welcome to Dr. Ruscio Radio, discussing the cutting edge of health, nutrition, and functional medicine. To make sure you're up today on this and other important topics, visit DrRuscio.com and sign up to receive weekly updates. That's D-R-R-U-S-C-I-O.com.
The following discussion is for educational purposes only, and is not intended to diagnose or treat any disease. Please do not apply any of this information without first speaking to your doctor.
Now, let's head to the show!
Dr. Michael Ruscio: Hey, folks. Welcome to Dr. Ruscio Radio. This is Michael Ruscio and I am here with my good friend, my mentor, the guy who took me from feeling like absolute garbage to getting me back to square one: Dr. Dan Kalish. Doc, thanks so much for being on the show.
Dr. Dan Kalish: Yeah, glad to be here. I appreciate it.
DR: I'm so happy to have a chance to thank you in a public forum like this for helping me back when I was a college student. I didn't know it but I had contracted an amebic infection and you were that guy who helped me figure that out. So, I've got to give you a sincere thank you and hat tip because if you hadn't helped me figure that out, I don't know where I would be today, but I probably wouldn't be doing too good. So, thank you.
DK: You're very welcome. And that's something that we have in common, because we both had the same parasite, if I remember right.
DR: Yeah, I remember you telling me that you had the same one. And I will never forget, actually: I think one of the first things you said was, "You know, Michael, you have the mother of all parasites. The same one that I had. And getting through this is going to be difficult, but you will learn a lot through the process." And, it was, it was difficult, but I learned so much, as I know you learn so much going through it yourself. So, it's a tough bug, but you learn a lot about the gut, and how important the gut is through getting over that.
DK: Yeah, it's so exciting to me, too, now, because there is so much research coming out each year about how these chronic gut infections – like the one we have is entamoeba histolytica – how these infections directly affect the brain. I mean, it's incredible to see the science starting to validate what have been personal experiences of people for so many decades.
Episode intro
DR: Absolutely. And that's the topic today – (what) we are going to get into will be all about the brain, and maybe we can call it the inflammation brain connection. I know this is an area you've done some very specific work in with the brain, in addition to the foundational functional medicine work, which looks at the gut as one of the primary…you've also done some additional work into the brain, specifically. Before we launch into the specifics, is there a 30,000-foot summery or orientation you want to to give people on the brain and what your approach is to fixing brain issues; again, which may manifest like depression or anxiety or fatigue or memory problems? So, what would your 30,000-foot encapsulation of the issue be?
Major types of brain related problems
DK: So, I always think about what are the major types or categories of brain-related problems, so that the person who is listening to this can start to categorize themselves – like, 'What kind of type am I?' There are, simply divided, three types: there is the deficiency type, which means that the brain chemicals are actually low – that's the best type to have, because it's like a reservoir that doesn't have enough water. You fill it up and everything is fine. If your brain chemicals are low, you put them back in and everything is good. So deficiency type.
There is a damage type, where the brain is actually damaged, either from a toxin or from physical trauma. So either a neurotoxin has gotten in and hit the brain cells and damaged them, or you've had some kind of a head injury.
And then the third type would be a genetic type where one was born with a genetic tendency to have this kind of a problem, and there is all kinds of genetic testing available now. You hear a lot about Mthfr and COMT.
Those are the three big-picture ones to consider. Either that you are deficient in these chemicals – you don't have enough of them; that there has been some damage to the brain itself; or that you have a genetic predisposition for the problem.
DR: Gotcha, OK. Maybe to give people a quick interjection on if you have something like depression, anxiety, or a related mood disorder, one of the first things that is recommended in conventional medicine, of course, is going to be some sort of antidepressant or anti-anxiety medication. There has actually been a few very impressive systemic reviews performed, and people have heard me, again, talk about systemic reviews, where in a systemic review, researchers will examine most of the high-quality data on a topic and try to see what the summery of the data suggests. And, when this was preformed for antidepressants and anti-anxiety medications, in these very well-preformed scientific reviews, they found that for people with mild to moderate depression, antidepressants and anti-anxiety medications were not anymore beneficial than a placebo or a sugar pill. (1)
So, the only real effectiveness for these antidepressant medications seemed to be for people with very, very severe depression. So, another way we could say this is, for people with depression that's not so severe that you can't even get out of bed, the antidepressants don't seem to have much more effectiveness than even a placebo. So that's maybe for people who are struggling with a quandary about the medications.
Dr. Kalish's four-category approach
DR: But to get more into what you can do to really treat the underlying cause, Doc, let's say someone comes in on Day 1. How do you start this whole process? What I am trying to help people see or understand with this question is, if people are out there struggling with these problems, they may be reading about 15-20 different things on the Internet. One person says do this. Another person says do that. Another person says this test. Another person says that test. So, from someone whom has a lot of experience in this arena, how would you codify this or simplify this into an approach, if you can? First, maybe we want to do this, second that. Can you help people get a logical sequence of interventions to sort through this efficiently?
DK: I have it divided up into four different categories of analysis, and four different categories of treatment. They are the same – I will explain that.
So, it's pretty easy when you look at it that way. This is in the order in which the problems occur – this is not necessarily in which they are the most important.
Category No. 1 is we are always looking for what the underlying cause of the problem is. And then there are treatments for the underlying cause of the problem. Let's say that you are depressed because you have a GI infection. You need to figure out you got the GI infection first, which is kind of tricky, and then you need to treat it.
The second category would be what is the physiological damage that is occurring? So, let's say you have a GI infection. What kind of damage is occurring? You are having inflammation in the body from the infection. That's a general response is going happen not just in the gut, but all throughout the body. So, you've got the cause, the effect, in terms of physiological damage. And then you have the body system that's impacted. So, that could be your thyroid is impacted, or the adrenals, or the liver, or the brain. In other words, that inflammation generated by that parasite ends up affecting the body. And inflammation can affect just about anybody's system. It could affect your cardiovascular system. It can affect anything.
So, body systems is the third category.
And then the fourth category is what your symptoms are. You can treat symptoms, and oftentimes we do. There is this negative connotation to treating symptoms within functional medicine, but oftentimes if someone has heartburn, you give them a digestive enzyme and their heartburn goes away, it's not necessarily a bad thing. It's just that you need to know that that is happening.
We can treat each one of these categories, right? We can treat the underlying cause, we can treat the physiological damage, we can treat body systems – like thyroid, liver, brain – and then we can treat symptoms. So, I think the first thing is to sketch out where you are, and what each one of these categories is for you, and then start to make lists of things that you've addressed or haven't addressed. It gets pretty complicated pretty fast, you know?
What I am learning about now, after this 20-some-year journey is that a lot of times, the underlying cause is not something that we can address right away. A lot of times, treating the underlying cause of a problem first makes a person sick. Like, mercury is a good example of that. Let's say that someone's mercury toxic, and that is why their brain is not doing well. If you try to detox the mercury aggressively right away – even though that's the underlying cause of all the problems – they could get quite sick. So, we need to kind of step people through these – underlying cause, physiological damage, body systems, and then systems-type approach, so you can see where you are. And then try to attach a category to near 'next step', and each action step that you want to do so you can see where you are within that context. That, to me, has started to make things really clear. A lot of times, people get a huge amount of symptomatic relief from treating symptoms. But, as you know, that can cause a lot of side effects or problems. Or, you can make a person have a false sense of security; like, things are OK.
Let's say that you are depressed because you have mercury toxicity, and you take a bunch of amino acids and the depression is gone. Well, you still have the mercury toxicity, right? So, that's kind of how I think we can look at it now in these four separate categories, from a big-picture view.
DR: I like that analogy of it's OK to support a system that is disfunctioning, like maybe giving some amino acids to help symptomatically. But you have to do that in conjunction with addressing the underlying cause. Yeah, and I like that line of thinking, because hopefully we will set someone up for not requiring treatment forever. You know, if we could address, using your same example, mercury toxicity, while at the same time, administering amino acids to help with depression. Hopefully, as soon as the mercury issue is resolved, we can slowly scale someone off of the amino acids, and they won't need them everyday for the rest of their lives, right?
DK: Absolutely. But, here is where it gets really tricky, and this is why people have trouble figuring this out. What if mercury toxicity is not your problem at all, but you have some other thing that is causing the neurotransmitter levels to be really low? Like, let's say maybe it's just a genetic tendency. That's an easy one. So, that means that in that situation, amino acid treatment to make your brain better is treating the symptom and the cause at the same time, right? That's why it's tricky, because you never know, unless you are thinking through this very carefully, 'OK, I just did this one thing that controls my symptoms. Is that really addressing the underlying cause?' Sometimes it is, but usually it's not. Usually what makes you feel better is not telling you what the underlying cause of the problem is. But, sometimes it is, right? It's almost impossible to figure this out, without a lot of lab work, is what it comes down to.
DR: Right. And a clinician who has just seen case after case after case, and has really sorted through this stuff; and that's why I am a big fan of people working with a clinician if they've tried changing their diet, tried improving their lifestyle, and they still are not where they want to be. I really think working with a skilled clinician will be the most efficient. I know sometimes people belay that, because they are saying, 'Well, it's going to be several hundred dollars just to get started, most likely.' And, 'I could just read this blog and try to supplement on my own for, like, $70.' And certainly, you could try that. But really, the benefit the clinician brings is they help you get to the underlying, root cause, and get to the right treatment and testing much more efficiently than if you were just kind of floundering through it on your own.
DK: Yeah, that's true. I think that was true for both of us, in terms of our personal health history. You know, without the functional medicine workups, I'd probably still be treating candida thinking I had a candida overgrowth.
DR: Right.
(laughter)
DK: You know?
DR: Yeah, and I was taking all of these herbs for thyroid, and for libido, and for everything else – for energy. I wasted several hundred dollars just at Whole Foods in the supplement aisle. So, yeah, I'm glad I found you without too many months floundering.
DK: And, if you think about it, the cost of doing the testing and paying my bill, that actually saved you years of time, and thousands of dollars of treatment. And, you know the funny thing is that, if you had gone your own way and thought, 'This Kalish guy seems a little crazy; I'm going to skip these test.' First of all, you would still have E. Histo right now. Not only would it cost you lots of money (and) wouldn't fix the problem, but image how much the damage the E. Histo would have caused just year after year after year, right? It would keep getting worse.
DR: Absolutely. And that's why I really am a huge proponent of educating people. But I also think, just like we've been discussing, if you've done the basics of diet and lifestyle and you are still not feeling well, I really do think it's in most peoples' best interest to then bring in a clinician. Because, while it might be cheaper to try it on your own – on face value, may seem cheaper – in the long run, it's going to be much more efficient, in terms of cost and of time, to have a clinician guide you through it.
And, I guess along those lines, Doc, what are some of the things that you like to start with, in terms of let's say someone is out there, they've changed their diet, they have their lifestyle fairly well dialed in. What are some of the things now that may be causing problems with the brain, brain inflammation. You know, where would you go clinically next? Where should people be thinking about going next with their investigation?
Causes of brain inflammation
DK: It's a short list of issues that cause brain inflammation. So, one that you wouldn't think is stress, emotional stress. You wouldn't think that just emotional stress could cause your brain to get inflamed but it can. In fact, the constant ruminating and thinking a lot of us do, and the obsessive thoughts and being angry, upset, or just worrying about things over and over – all that brain activity can stimulate the neuroendocrine system, the hormones and the neurotransmitters in such a way that people end up inflaming themselves, literally, with their thoughts. So that's a common one, especially if you are under a lot of stress – if you are going through a divorce, or someone in your family just died. And then, we often see gut inflammation either from foods that are inflammatory triggering problems with the brain, or from infections in the gut.
And then the big category – and this is kind of like the silent category, because it's really hared to detect – would be neurotoxins; toxins that are able to get into the brain and start to actually directly damage brain cells themselves. That's not like a remote response, you know? Whereas in the gut, at least the infection is in your gut and not in your brain. With a neurotoxin, the actual toxin is literally in the brain itself ricocheting around like a little Ping-Pong ball wracking up points in terms of destroying your neurons there, you know?
DR: Sure. So, the emotions – certainly there are some basics there for people to take into account. Stress management, maybe meditation. Chris Kresser was on the podcast a little while ago. We talked about the importance of not obsessing over your health, and allowing yourself to have a little bit of fun. So fun, play, not obsessing over health. There are a lot of great resources out there. Actually, I have a guest coming up who is developing a method to help people to not respond to life stress as strongly. So, we will have some stuff coming down the pike for the emotional piece. But also, I think there are some basics there that people can definitely put some time and energy into to help with that piece.
What about the gut piece, doctor? Are there certain things that you find commonly in the gut that people should be aware of that affect the brain?
DK: Yeah, I think there are two general categories. One would be foods that cause inflammation, and that's usually pretty easy to address. You can figure out what special diet is going to work for you in terms of being anti inflammatory.
But the part that is really tricky is being able to detect GI tract infections that are chronic. A new and dramatic infection that you might have just picked up – it's pretty easy to find, usually. But the chronic infections can take quite a bit of investigating, special times of lab tests and analysis – a certain amount of detective work to put into that.
DR: I agree. I agree completely. We have our standard parasitology workup – something like a biohealth 401h, or doctor's data stool profile, can help with…there's also SIBO, Small Intestinal Bacterial Overgrowth. There's even discussion of what is called SIFO – Small Intestinal Fungal Overgrowth, which we really don't have a test for. But I think looking at antibody profiles – blood antibody profiles that are available through Quest and LabCorp are really helpful for those. And also, something that can definitely cause inflammation that sometimes eludes detection is Inflammatory Bowel Disease. In a lot of people in this progressive/paleo/Functional Medicine community, they've done such a good job with their diet that their symptoms aren't bad enough to prompt an investigation for Inflammatory Bowel Disease, because their symptoms are not that bad. But there have been a number of cases that have low-level Inflammatory Bowel Disease that have responded very well to therapies. That could be something else for people to think about, in terms of the gut.
Then, to your third point, neurotoxins. Tell us a little bit more about some of the typical neurotoxins – maybe how people can test, or how to become more aware about if those might be affecting someone.
DK: Yeah, there are tests that you can do that measure exactly what your load of various toxins is – anything from arsenic, and mercury, cadmium, and led, to benzene, toluene, DDT, ect. You can measure all of these things. But those tests are quite expensive and usually they aren't that important because what we are more concerned about – and something we can do directly about – is how the detoxification system is working. So, rather than identifying the toxin and giving you all this bad news, because we all have toxins in our systems – hundreds of them – it's usually a little more practical to determine how are the different detox pathways working, and is your body capable of binding up and getting rid of toxins. So, that's a very functional test, which we like to do because we are doing Functional Medicine.
I've been doing these organic acids test now for a long time. When we first met, I didn't run these on every new patient, but now I run the organic acids testing on every new patient. And it's really opened up my practice to a whole new range of treatment options. Because, basically, we see antioxidant status, we see Phase 1-Phase 2 liver detox function; we see methylation; all of the variables that are related to toxins and the body's ability to bind up and get rid of toxins we will see on the initial lab work.
You can tell who is at risk, basically.
DR: Sure. I want to echo your point, because I think it's an excellent one, about not testing for the toxins – or, maybe not routinely testing for the toxins. I think there is almost always an exception to every rule. But, for most people, I also haven't found testing the toxins to be very helpful. I think something that is very important to reiterate (is) if you start reading about the effect of these toxins, you can really become very scared and motivated to live in a bubble, because you can read a study about mercury, DDT, infalates, and parabens. You can very quickly just say, 'Oh my God, I want to test all of these. I want to use the most aggressive detox.' But really, we are all going to be exposed to these things. So, what is more important, just like you mentioned, Dr. Kalish, is not the level of these toxins, per say, but it's the competency or the ability of your body to clear these toxins, which is much more important. I think it's very important because also, like you said, these test can be very expensive. People can very quickly rack up a lab bill of plus-$1,000. It doesn't really give you super-actionable data, but rather at your detox competency is a much more important point.
Maybe even to echo something Boyd Haley- Boyd Haley being a very big researcher in mercury research. His recommendation in a lot of cases is to look at other systems of the body first – like the gut, chronic inflammation, diet – before looking into metals, because will be less reactive to, and have a better ability to detoxify metals, once some of these other systems of their bodies are healthier. So, just a couple things I thought were really important. Anything you want add along those lines, Doc?
DK: No, I think that's good. Basically, the punch line here is that if we can see what is wrong with the detox pathways, you can stimulate them to work properly. And then the toxins start to come out. It's a very direct approach.
DR: Right. I agree. Now, with regards to the organics test, how do you like to time that, and/or interpret the results if someone has a gut problem? Because one of the things that can be challenging about the organic acid levels is, if you suspect someone is not absorbing their nutrients well, at least as I understand it that may cause a problem with your organic acid levels. So, sometimes you are not sure of the imbalance in the organic acids is, maybe, a true problem or is secondary to malabsorptions. So, how do you deal with that?
DK: Well, we always run all of the gut tests, and pretty much everyone that work with has malabsorption, so you kind of take that into account. Sometimes it's a little more extreme than with other people.
DR: Sure.
DK: In fact, if you have extreme malabsorption, the organic acids testing will show all false negatives – you know, it all looks fine because the person is not even making a response anymore. But, you know that just comes with experience, I guess, to sort of tie in (treating) the patient, not the lab, you know? So, you're assured that the lab is matching the patient, and it's matching the changes that you want to make, and the changes they want to make, so that all adds up. Once in a while, it doesn't add up. Overall, I've found that's only a couple times a year. The vast majority of times, you get a lot of information out of tests. Maybe it's because I know the person has malabsorbtion, so it's just kind of taking that into account automatically.
Histamine intolerance and brain inflammation
DR: Sure, that's a good point. So, we've talked about testing. We talked about the organics and GI testing. Maybe something else that I've found can be helpful for some people – I'm not sure if this is something you are seeing a lot of, but…Histamine. For people whom are eating a paleo-type diet and are eating a lot of fermented foods, or maybe paleo and Weston Price – I have found that some people don't clear Histamine well. Even I had a problem with this, actually, for a little while, where I was all of a sudden having…it's a beautiful day out, doing what I love, no reason not to be happy, and I was just be irritable. I am just sitting there and I am like, 'Why am I irritable right now?' Just irritable about everything – the sun is too bright, it's too warm. Just irritable at things that should not make you irritable. I zoomed out for a moment and I looked at my diet, and pretty much every food that I was eating at that time, (which I) had just kind of fell into this pattern, was a high-Histamine food. And so, I scaled back on the copious amounts of things like sauerkraut, avocadoes, spinach, canned tuna fish – I was just eating a lot of foods – cheeses. And scaling back some of those high-Histamine foods…within like a day, all those symptoms went away. So, not for everyone, but for some people, if you are eating a lot of Histamine foods, scaling those back may be helpful. Have you had any experience, Doc, with Histamine?
DK: Yeah, this is an active topic in the community now of doctors in my training program. It's this book – I've actually got the book in my hands right here. It's called Understanding Histamine Intolerance and Mast Cell Activations (2).
DR: Gotcha.
DK: I'm not going to try to pronounce this woman's name because it's confusing – Mariska de Wild-Scholten. Anyway, you can find it on Amazon. This is sort of the bible for my students about…this is something I've learned from the people in class, not that I've taught them, right? But, there is a medical doctor and a nurse practitioner who both had the same story that you just did, which is that they completely relieve their symptoms literally overnight just following the advice in this book about, basically, low Histamine foods. And it seems to be…What they mention, too, is that they see the same pattern with some of the really sick patients they are working with, who just seem to react to everything. So, absolutely, yeah. I think this is an important issue.
DR: I just pulled up the book here, and you are right – the last name does seem like a hard one to pronounce. We will probably do an episode in the future specifically on Histamine, and maybe we will bring in this author to speak on it a little bit more. But really, I don't think it has to be that complicated of an issue, at least not initially, where if you are wanting to figure out some of this, pull up a Histamine food list. I know Dr. Amy Myers wrote a great article for Mind, Body, Green – that's the one I typically look at. And you may just want to try pulling out some of the high Histamine foods for a few days and see if it makes a difference. Usually the response will be noted – at least in my experience – within hours to days. So, that's an easy one just to try for a couple days and see if it helps.
Urinary neurotransmitter testing
DR: So, what else do you want to talk about on this topic? Anything…
DK: We want to talk about something controversial…
DR: OK. This is the amino acid treatment, and the urinary neurotransmitter testing?
DK: Yeah, let's talk about that.
DR: Yeah, let's dive in, please. So, quick background for people: There are a few companies that offer urinary testing for levels of neurotransmitters – like serotonin, dopamine, adrenaline, norephedrine, and some others. And there is controversy about if these are useful. Do these levels correlate with levels in the brain? Or do they just tell you about kidney excretion or absorption of amino acids in our transmitters? So, there definitely is debate there. I know, Doc, that this is something that you've done a lot of work with. So, why don't you just fire away and give us your perspective on this issue.
DK: Yes. There is a central question – it's a pretty simple question: You can measure neurotransmitters in the urine. Let's keep it simple – serotonin and dopamine. You can measure a bunch of others, but just to keep it simple. You can measure serotonin and dopamine in the urine. The question is: what do those levels mean? What do they reflect? It's not debatable about whether or not you can measure them accurately. That's easy to do. But the question is: what does it mean when you do measure them? I've always been on the alternative medicine side. You know, when I was about 19 years old, I was in a really bad bicycle accident – I went flying off a bike at a high rate of speed and hit my head. Of course in those days, I didn't have on a helmet. I always wear a helmet now. I was taken to the Emergency Room. I refused to let – this is a true story – the ER doctor X-ray my scull, because I didn't want to get radiation from the X-rays.
(laughter)
DK: And, I did almost get into a fistfight because I was practically unconscious. The guy got angry, he started yelling at me, and he literally said, "That's fine," and I got kicked out of the ER. So, I am not pro-medicine at all, and I'm really careful about things. But there are certain issues in science that are just so clear that it's embarrassing when natural health practitioners try to deny them. So, there is something called the blood-brain barrier, which is not a personal opinion; it's a scientific reality. I think every physiology textbook anywhere in the world right now would talk about the blood-brain barrier. It's not a controversial subject. One of the things the blood-brain barrier does is keeps the serotonin and dopamine that you make in your brain, in your brain. It cannot get out. It just can't get out. It just can't cross this barrier.
Similarly, the serotonin and dopamine that you make outside of the brain – and we make a lot of it outside the brain – can't get into the brain. You may not like that design, but that is how the body is designed. So, any serotonin or dopamine that you see in the urine is completely unrelated to any serotonin or dopamine that you made in the brain. This is all on baseline testing; this is assuming that you are just doing a baseline test. A baseline test means you're not doing any treatment. You're just taking a urine testing to see what is going on.
DR: And that's where I think one of the criticisms is made – if we are trying to treat something like depression or anxiety, wouldn't we want to know what are the levels in the brain, right?
DK: Yeah, and the only way you can find out the levels on baseline is if you somehow get into cerebral spinal fluid. So, it's possible, but you have to puncture something to be able to do that.
DR: A very, very invasive test.
DK: Yeah, people aren't just going to walk around and get their cerebral spinal fluid checked every few weeks. That just isn't going to happen. So, it turns out when you do a urine test, and you see the serotonin and dopamine in the urine, and it does show up there, that serotonin and dopamine is actually made in the kidneys by the kidneys – it's a test of kidney function. And if you are really into renal physiology or nephrology, as they call it, you can look all this stuff up. There are hundreds of research articles on this; this is not obscure. If you are a kidney scientist – this is something well known – the kidney's take amino acids from the blood and there locally in the kidney itself, in the cells of the kidney you make serotonin and dopamine. Once that serotonin and dopamine are made in the kidneys, you can either dump it out in the urine, which is what you are seeing in the urine test, or the kidneys can dump it back into the bloodstream for your body to use. So, what we are seeing with the urinary test of serotonin and dopamine is what your kidneys decided to get rid of that day, basically.
DR: OK.
DK: And that bares no relationship to what is going on in the brain whatsoever. On a baseline test, there is absolutely no relationship. So, you can see super high serotonin, super low serotonin, and it's not going to reflect what is happening up in the brain.
DR: So, then what have you found useful about using or not using this testing in conjunction with amino acid therapy and helping people get over depression or anxiety?
DK: See, this is the problem, right? Because some labs pretend that baseline testing is accurate, and they will run a test – they will take your money, first of all – they'll show the serotonin and dopamine levels on baseline, and then they'll recommend supplements based on that test.
DR: Right, and I see fair amount of people who come in and they want my opinion on X lab who ran this test. You really, at least in my opinion, you can't really do a whole lot with that analysis.
DK: No, you can't. It's totally bogus. This is something that you could go to any neuroscientist in the United States and you ask them, and they'd say, "Well, that's ridiculous. No, that doesn't work." But the thing is that what I was trying to mention earlier with my whole X-ray incident – this is not one of those situations where medicine has got it wrong, and somehow the alternative people have figured something out. It happens many times. This is just something the whole world agrees is a scientific reality.
Now, there are ways you can ways you can measure serotonin and dopamine and get some meaning out of it. But that can only be done with a really sophisticated protocol that is put in place prior to the actual test. So, again, that's very rarely done, also. But the baseline testing is where there is a problem. It's just kind of sad that people…first of all, it's amazing that these labs are run, because they are sort of misleading at best, maybe slightly fraudulent. But there are two ways, two workarounds for this: one is, there are some complicated protocols you can follow before you do urine testing, which will help – and, again, those are available, but not that well-known about; and there is a more common way of addressing this, which is to look at the urinary metabolites – that would be the breakdown products of serotonin and dopamine. So, what your kidneys are responsible for, obviously with the urine, is to get ride of stiff you don't need anymore. It's why you are peeing it out. It turns out that when you make serotonin and dopamine inside the brain, eventually they are broken down, and then they have to get dumped out. They get dumped out as these metabolites; that would be like the breakdown product of it – hydroxyindoleacetate, homovanalate, vanomadalate; there are three of them. Those markers will let you know, and give you an idea of what's going on in the brain. So, in other words, if your urinary metabolites are really low, it implies that your brain chemicals might be low. If the urinary metabolites are extremely high, it implies that you're making a lot, and using up, neurotransmitters. So, you can get a sense of what's going on with the chemicals in the brain by doing these test of the breakdown products.
DR: Gotcha. So that's you method of choice for trying to figure out, even from a peripheral or indirect metabolic window, what is going in the brain essentially with neurotransmitter levels.
DK: Yes, especially in regards to inflammation. Like I said, there are these other, more complicated techniques that are done also. But they don't really relate to inflammatory problems like we are talking about. It's a different category.
DR: And this is more of a Hinz-type protocol that you are referring to when you said the more complicated?
DK: Yeah, the complicated ones were developed by Dr. Hinz, Marty Hinz.
DR: OK. Now, I know you have a lot of familiarity with those, or at least at one point, you were looking into those quite closely. Are you now finding that the organic acids are a better starting part, and more Hinz-ian, if you will? And this sort of treatment and investigation is reserved for only difficult cases? How are you making that distinction?
DK: Yeah, I say that Dr. Hinz protocols are best designed for very difficult cases. He has really mastered the art of treating Parkinson's Disease, for example. And so, in order to do those protocols, you really need to be a medical doctor – which I am not, I am a chiropractor – because you need to co-manage medications that the person is going to be on. You may need to prescribe medications, or take the person off medications, or alter their dose of medication. So, for much more complicated patients, like Parkinson's, the more complex protocols are absolutely appropriate.
DR: Gotcha. OK. That's really good to know, because I am a big fan of trying to save people from doing unnecessary testing. It's one of the things – while I love Functional Medicine, as I know you do – sometimes I think there's no regulation on this test is legitimate, and this test is not legitimate. This test is science-based; this test is helpful. Unfortunately, a lot of people will come into my office with a folder full of testing. And I will look at it and 80 percent of it will be absolutely useless. And I really want to save people from doing that.
DK: Yeah, I mean it's the downside of having an industry that's not very well regulated. You really have to know…you have to be careful. A lot of doctors aren't aware, and they order these baseline urinary tests for serotonin and dopamine and they just figure, 'Hey, if this lab is doing the test, it must be valid." The doctors don't have the science background to question it, so it is just assumed that it is an accurate lab. And they're really not.
I think we've got to put an end to that one, because that's really embarrassing for the whole profession that those tests are still run.
DR: I agree. That's one of the things that I'm trying to do I guess with my entire career is just help to update and upgrade what we are doing in Functional Medicine, in a polite way without pissing too many people off – call out the tests that aren't accurate, and the treatments aren't accurate or valid, and also promote the one's that are. I think we've come to a point where this movement is growing, and that's great. But to continue to grow, we need to start to have policing of what's happening within this industry. Yeah, like you said, it's a double-edge sword, where it's not very well regulated, which is great because it allows people to think and to evolve, and to not be handcuffed into a standard of care which more conventional medicine is limited to. That's good but it's also bad, because if you have some people who don't know how to use science, or interpret science, or who are unscrupulous and trying to take advantage of people, they can also run a muck. So, hopefully we will be making a small dent in that with some of the work that we are doing.
Brain inflammatory markers
DR: Doc, anything else you want to close with, in terms of things that are important clinically? And then I want to give you a chance to tell people where they can find you and cool stuff that you are working on.
DK: Last thought here is that with the organic acids testing, there are two ways you can measure. We talked about (that) you can look at these urinary bi-products. But you can also measure these three inflammatory markers that will tell you if there is an inflammatory problem that is driving your brain chemicals down. That's wonderful – kynurenate, quinolinate, and picolinate. These three markers, if they are elevated, show the doctor that there is a lot of inflammation in the body that is weakening or damaging the production of brain chemicals, of neurotransmitters. What happens is when we are very inflamed, the cytokine levels go up in response usually to an infection or some kind of inflammatory process. We make those inflammatory products, those cytokines, out of the same raw ingredients that we make the brain chemicals out of, if you can believe that. So, vitamin B-6 and some of these amino acids will start to go to inflammatory cytokine production, and then you don't have the nutrients you need to make the brain chemicals. That sort of translates into plain English (as): the more inflamed you are, the lower your brain chemicals go. Eventually, the inflammation can start to make you depressed or anxious or cause other kinds of brain-related problems.
DR: Absolutely. And that is something we touched on briefly in one of our previous podcasts where we did include one of the links to one of the studies showing that, when someone is inflamed, their kynurenate can increase, and that can, essentially, rob them of amino acids in order to make neurotransmitters, because they are feeding inflammatory pathways (3). We will try to fish out that link and include that again here. That's an unbelievable point and just speaks to how important something like your gut health is, or stopping that gut inflammation in helping with your bringing health.
Also something else that I wanted to quickly mention kind of as we are wrapping up here: there was a study published a year-or-two ago – I did a YouTube video on this; we will include the link for this also (4). They showed that people with either depression or anxiety actually had autoimmunity I believe it was the serotonin receptors in their brain. So, it's starting to show that, again, autoimmunity kind of rears its head in yet another condition. I don't know if any studies looking at let's say someone improves their diet, and does that lower the antibodies for serotonin receptors? But I would sure be surprised if it didn't knowing how many people, for example, will get on an anti-inflammatory diet and see their mood improve. And this might be another mechanism through which something foundational like diet and gut health can have a positive impact on your mood and how you are feeling.
DK: Yeah, absolutely. I saw that study, too. Isn't it fascinating?
DR: Yeah, really interesting. So, Doc, what are you working on, what do you want to make people aware of, and where can people find you?
DK: I have two big projects: I have my doctor training program, which is at KalishInsitute.com, for practitioners to do these training programs. And then my practice, where I work with people over the phone, is at KalishWellness.com.
Oh, and we have a big project coming up; I don't know how I could forget about it, because I just spent the whole weekend working on it, basically, which is The Depression Sessions with Sean Croxton (5). Sean is an amazing fellow who runs Underground Wellness. And he has put together a group of 22 experts talking about depression. And then, I've put together a four-week program we are calling Brain Restore and More, which is going to be the follow up to The Depression Sessions. So, if you listen to the 22 experts, and you want try to do something to take charge of your health, you will be able to sign up for my program. That will be coming out sometime in the summer of 2015.
DR: Awesome. Yeah, Sean is great. I know we were both on his The Digestion Sessions (6), which was a few months ago. We will try to include the links to both of those here in case people want to follow up for more, for either one of those.
And I should also just mention, Doc, that you are also involved with some research. Can you say anything about that or is that not able to be discussed yet?
DK: No, I think we can talk about it. So, we are finalizing a research project where we took 25 women ages 35-55 who are in busy jobs, you know? Busy working women, often with kids and whom are very stressed. We ran adrenal and GI testing before and after, and we did a six-month intervention program. We are just getting the study written up now, and that should get published sometime later in 2015. We are working in conjunction with a group of doctors at the Mayo Clinic in Rochester, Minnesota, on that project.
DR: Awesome. And that is…it's great to see more and more research being released in this arena, because I think it's going to move this movement toward a more science-based movement that can really be taken to a larger stage – to more of the general public, because now we are continuing to legitimize this movement and what we are doing. Hopefully this will allow the movement to continue to grow. So, thank you, Doc, for doing that. And thank you so much for coming on. It was a lot of fun. I am sure people will really enjoy this episode and hopefully we will have you on again sometime in the near future.
DK: Hey, appreciate it. Thank you.
DR: All right, Doc. Take care.
Thank you for listening to Dr. Ruscio Radio today. Check us out on iTunes and leave a review. Visit DrRusso.com to ask a question for an upcoming podcast. Post comments for today's show and sign-up to receive weekly updates. That's D-R-R-U-S-C-I-O.com.