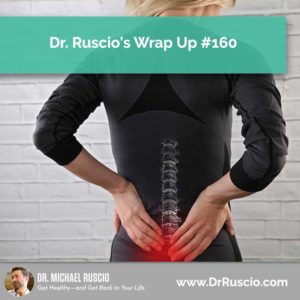 In Case You Missed It
On Monday, we discussed how vitamin D heals your gut and improves IBS.
On Wednesday's podcast release, we spoke with Dr. Mike T. Nelson and discussed three simple keys for using low carb, high carb, and intermittent fasting for optimum metabolism.
Latest Research
This study aims to identify the risk factors associated with colonic cytomegalovirus (CMV) infection in ulcerative colitis (UC) and to compare the clinical course between antiviral therapy-treated and -untreated groups in mucosal CMV-polymerase chain reaction (PCR) positive cases.
Conclusion:
"Aging, endoscopic UC activity and corticosteroid dose predispose to colonic CMV infection, as determined by mucosal PCR, in UC. UC treatment without anti-CMV therapy may be warranted, particularly in patients with low-load CMV-DNA. Anti-CMV therapy alone does not always achieve clinical response in UC even in cases with high-load PCR."
---
A vitamin D deficiency is related to the presence of autoantibodies in patients with adjuvants (ASIA) and silicone breast implants.
---
There is moderate evidence that safe therapies like manipulation and mobilization can help to reduce chronic low back pain and improve function. Manipulation may be able to produce a larger effect on chronic back pain.
"Multimodal programs may be a promising option."
---
A systematic review and meta-analysis concluded that mass deworming for soil-transmitted helminths with or without deworming for schistosomiasis had little effect.
"For schistosomiasis, mass deworming might be effective for weight but is probably ineffective for height, cognition, and attendance. Future research should assess which subset of children do benefit from mass deworming, if any, using individual participant data meta-analysis."
---
The results of a recent study showed that African Americans and Asian Pacific/Islanders had the highest risk of Helicobacter pylori (HP) associated with upper GI symptoms. African American patients also had the highest risk of HP associated with GI cancer.
Laugh a Little!
Healthy Foodie
Skinny Taste: Cauliflower Rice (Arancini) Balls
PaleoLeap: Chicken and Coconut Curry Soup
Taste Made: Beet Lasagna
PaleOMG: Strawberry Peach Lemonade
Happiness Homework 
Give an old chest of drawers some fresh paint.
Dr. Ruscio's Quotable
"The biggest adventure you can take is to live the life of your dreams."
— Oprah Winfrey

What do you think? I would like to hear your thoughts or experience with this.
Dr. Ruscio is your leading functional and integrative doctor specializing in gut related disorders such as SIBO, leaky gut, Celiac, IBS and in thyroid disorders such as hypothyroid and hyperthyroid. For more information on how to become a patient, please contact our office. Serving the San Francisco bay area and distance patients via phone and Skype.