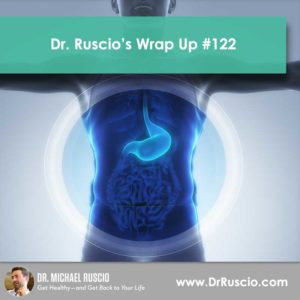 In Case You Missed It
On Monday, we discussed hypothyroid and miscarriage.
On Wednesday's podcast release, we discussed our listener questions – What The Health, low FODMAP diets, gene tailored diets, MegaSpore probiotic, probios & constipation and more….
---
Dr. Ruscio's Weekly Tip
In this week's tip, we discussed what to do if symptomless hypothyroidism increases your risk of miscarriage.
---
Latest Research
Microbial gut colonization process may be initiated prenatally by a distinct microbiota in the placenta and amniotic fluid. The link between the mother and the offspring is continued after birth by microbes present in breast milk.
Hypothyroidism was less frequently seen in women with PCOS and in men compared with women in the general population and among women with Turner syndrome. Androgens seem to protect against hypothyroidism.
Vitamin D supplementation seems to reduce the progression of "small burden" uterine fibroids to an extensive disease, and thus reduces the need for conventional surgical or medical therapy.
Capsule endoscopy has a high diagnostic yield in cases of suspicion of celiac disease. Capsule endoscopy is safe procedure with a high degree of concordance with histology and it helps in the differential diagnosis of celiac disease.
A meta-analysis of four retrospective cohort studies with 12,912 cases of psoriasis demonstrated an approximate 3-fold increased risk of CD among patients with psoriasis.
---
Laugh a Little!
---
Healthy Foodie
Loren Cordain: All Day Energy Cherry Mint Turkey Balls
Jason Glaspey, Founder: Vegetable Beef Chili
Gina Homolka: Grilled Chicken Bruschetta
Sébastien Noël: Pomegranate Green Tea
---
Happiness Homework 
Meditate – Sit, Be Still
---
Dr. Ruscio's Quotable
"Try to be a rainbow in someone's cloud."
― Maya Angelou
What do you think? I would like to hear your thoughts on the research, recipes and other info above.
I care about answering your questions and sharing my knowledge with you. Comment below with any health question you may have and I will incorporate it into our new monthly podcast just for you!
Dr. Ruscio is your leading functional and integrative doctor specializing in gut related disorders such as SIBO, leaky gut, Celiac, IBS and in thyroid disorders such as hypothyroid and hyperthyroid. For more information on how to become a patient, please contact our office. Serving the San Francisco bay area and distance patients via phone and Skype.