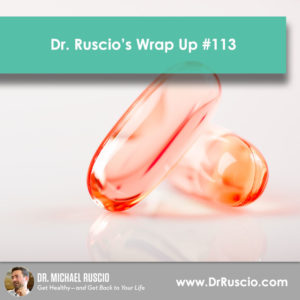 In Case You Missed It
On Monday, we discussed how Laura felt better by improving gut health.
On Wednesday's podcast release, we spoke with Sally Norton and discussed when "healthy" foods harm you.
---
Dr. Ruscio's Weekly Tip
In this week's tip, we discussed how to heal your gut and feel better than ever.
---
Latest Research
"Due to its few side effects, the lack of cardiovascular effects and interactions with other drugs, prucalopride may be safely used in elderly people as well."
Yet another study suggesting liquid (gel capsule) thyroid hormone is better than standard thyroid Rx.
Intestinal dysbiosis and leaky gut may constitute a key pathophysiological link between depression and its comorbidities.
Thyroid hormone helps with pregnancy outcomes in women with Hashimoto's.
No surprise here, but fasting was recently shown not to be good for those with adrenal insufficiency.
---
Laugh a Little!
---
Healthy Foodie
Jason Glaspey, Founder: Chunky Turkey Chili
Gina Homolka: Crock Pot Balsamic Pork Roast
Taste Team: Paleo pumpkin pie
Sébastien Noël: Bacon-Wrapped Avocado
---
Happiness Homework 
Make a list of how you want to feel.
---
Dr. Ruscio's Quotable
"Courage is what it takes to stand up and speak. Courage is also what it takes to sit down and listen."
― Winston Churchill
What do you think? I would like to hear your thoughts on the research, recipes and other info above.
I care about answering your questions and sharing my knowledge with you. Comment below with any health question you may have and I will incorporate it into our new monthly podcast just for you!
Dr. Ruscio is your leading functional and integrative doctor specializing in gut related disorders such as SIBO, leaky gut, Celiac, IBS and in thyroid disorders such as hypothyroid and hyperthyroid. For more information on how to become a patient, please contact our office. Serving the San Francisco bay area and distance patients via phone and Skype.