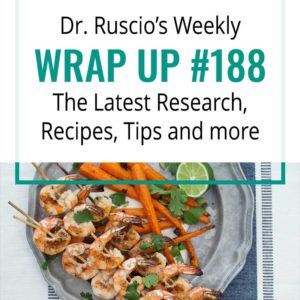 In Case You Missed It
On Monday, we discussed we discussed how your gut health affects your hormones.
On Wednesday's podcast release, we spoke with Dr. Anna Cabeca and discussed female hormone solutions.
Latest Research
In a systematic review involving N-acetylcysteine (NAC) as adjuvant treatment to eradicate pre-formed mature biofilms and to inhibit new biofilm production, the results were favorable and support more widespread use of NAC.
---
In a randomized, double-blind, placebo-controlled trial, 93 postmenopausal women with a history of recurrent urinary tract infections were given topically applied intravaginal estriol cream (50) or a placebo (43). There was a significant change in the estriol cream group and no change in the placebo group. The conclusion:
"The intravaginal administration of estriol prevents recurrent urinary tract infection in postmenopausal women, probably by modifying the vaginal flora."
---
To investigate the presence of SIBO in patients with active H. pylori infection, patients were tested via H. pylori 13C-urea breath test and glucose hydrogen (H2)/methane (CH4) breath test. H. pylori was found to be significantly associated with the presence of SIBO.
Laugh a Little!
Healthy Foodie
Against All Grain: Tequila Lime BBQ Shrimp
Andrea Beaman: Dandelion Fennel & Apple Salad with Toasted Milk Thistle Seeds
Jackie Ritz: Ground Beef Stroganoff
Monica Bravo: Grain Free Chocolate Cake Recipe
Happiness Homework 
Decide to unplug by a certain hour.
Dr. Ruscio's Quotable
"When we let go of all expectation, there is peace."
— Kin Eng

What do you think? I would like to hear your thoughts or experience with this.
Dr. Ruscio is your leading functional and integrative doctor specializing in gut related disorders such as SIBO, leaky gut, Celiac, IBS and in thyroid disorders such as hypothyroid and hyperthyroid. For more information on how to become a patient, please contact our office. Serving the San Francisco bay area and distance patients via phone and Skype.