In this episode, Dr. Ruscio interviews Chris Kresser M.S., L.Ac., a globally recognized leader in the fields of ancestral health, Paleo nutrition, and functional and integrative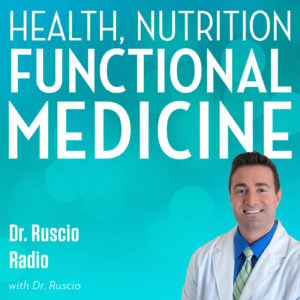 medicine. He is the creator of ChrisKresser.com, one of the top 25 natural health sites in the world, and the author of the New York Times best seller, Your Personal Paleo Code (published in paperback in December 2014 as The Paleo Cure). They discuss the darkside of healthy living by looking at how sometimes making healthy choices makes us less healthy and how we all need to perhaps "live a little."
Topics:
Episode intro…..1:35
Chris' "beer & pizza diet" story…..5:08
Sometimes there's more to life than health…..10:02
Fun things are healthy…..12:14
Health and belief systems…..14:32
Blue zones…..17:17
Chris' health crossroad…..19:32
Chris' best, worst healthy choice…..27:49
Episode wrap-up…..34:26
Links:
(12:43) Time in nature

(17:17) The Blue Zones by Dan Buettner http://www.amazon.com/The-Blue-Zones-Lessons-Longest/dp/1426207557
(27:12) Dr. Ruscio's YouTube playlist https://www.youtube.com/watch?v=bygakpWdoqw&index=3&list=PLH_t_IsnlRkDVcm7gynKD3WVZlpFS-B_W
Download Episode
Right click on link and 'Save As'

Chris Kresser & The Dark Side of Being Healthy
Welcome to Dr. Ruscio Radio, discussing the cutting edge of health, nutrition, and functional medicine. To make sure you're up today on this and other important topics, visit DrRuscio.com and sign up to receive weekly updates. That's D-R-R-U-S-C-I-O.com.
The following discussion is for educational purposes only, and is not intended to diagnose or treat any disease. Please do not apply any of this information without first speaking to your doctor.
Now, let's head to the show!
Dr. Michael Ruscio: Hey, everyone. Welcome to Dr. Ruscio Radio. This is Michael Ruscio. I am here with my good friend Chris Kresser. Hey, Chris. Welcome to the show.
Chris Kresser: Hey, Mike. It's good to be here.
DR: For those of you who don't know Chris, I'm sure there aren't many out there. If the Internet were like high school, Chris would be a quarterback, and I would be the captain of the chess team.
(laughter)
DR: At some point, you're going to proverbially shove me in a locker. So, I just as you to take it easy on me.
(laughter)
CK: Yeah, well, I don't know what to say to that, Mike. It's good to be here. Thanks for inviting me. It's always a pleasure to chat with you.
Episode intro
DR: I'm definitely happy with the topic we decided to cover today, because it just feels like something I think people could really benefit from. Which is, essentially…maybe we could call it the 'The unhealthy side of trying to be healthy' – for lack of a better term, or when trying to become too healthy or when health is an obsession, how that can become too healthy, or when health is an obsession how that can become detrimental. Do you have any thoughts at large you want to lead in with before we kick this off?
CK: Yeah, I think it's a great topic. You know, when you and I were thinking about what we were going to talk about, we mentioned methylation and a bunch of other familiar subjects. But I was just wanting to…it gets a little – it's not tiring to talk about those topics at all because I love them and they are really interesting and I think they are useful to people. But sometimes I just find myself wanting to explore the shadow side – the things that we don't often talk about. The things that I think are really important in the healing process that don't tend to get as much airplay as some of the typical topics. And I think this right up there on the top of the list, if not the Top 3. So, that's were it's coming from.
DR: Absolutely. And I totally agree. And, you know, to give people a clear idea as to what we are going to talk about: Essentially, when becoming too factitious about your diet is unhealthy, and when you are losing your life, so to speak, because you are so focused on health that you don't really have a life anymore. One of things I've definitely noticed is you can have two patients that have the same exact illness, and the same exact cinematic presentation. But the one that's maintained a life I find heals much more quickly because they have a life that they want to get back to. The people who have just given up on having a life – when I say "a life" I mean hobbies, time with friends and other activities, and things like that. The people who have lost that totally I find are much more prone to just fall into this self-analytical, almost hypochondriac cycle, where even when they start feeling better, they've forgotten how to do anything but analyze how they're feeling. And they can't get out of their own head and it makes it really hard for them to make any forward progress. Have you noticed anything similar, Chris?
CK: Yeah, I have for sure. I think it's pretty elementary when you think about it. If your entire experience on a day-to-day basis is oriented around just your own health, your experience of how you feel when you eat, and focused on how you feel from a moment-to-moment basis, and you're not feeling well, then that's not to be a very satisfying life. As you said, it's not that's…frankly, there's going to be depression in most cases associated with that. That then starts to really complicated the healing process because, if you lack a sense of purpose, if you lack pleasure, if you lack engagement with other people – social connection – then there isn't as much to live for, and there isn't as much of a reason to get well as if you have all those things in your life.
Chris' "beer & pizza diet" story
CK: There's a story I wrote about in my book and I've mentioned on my podcast a couple of times, so if any of my regular listeners are here, forgive me for telling it again. But I think it's a good one, so I'm going to tell it again. Back when I was just starting to study medicine, I was interning for a doctor – this was in San Diego County, actually, when I was living down there. It was a holistic doctor. He was a MS, but he had a holistic approach. He focused on a population of people it was really sick. There was this one patient that I remember in particular who, and I'm sure you had patients like this, Mike, who was just stricter and stricter on his diet. He just seemed to be reacting to more and more foods, and he kept eliminating more and more foods until he got to the point where he was basically just eating, like, broccoli, chicken breast, and kenwa or something. It was ridiculous – It was, like, three foods that he could eat. So the guy, who was really athletic and active, and was super successful in high school and college athletics, and you know was a pretty big big guy,initially, and had just gotten down to like a skeletal weight, where when he walked into the office, it was like, 'Wow, should he really even be outside of the hospital right now?'
DR: Right.
CK: You know, we saw him at one point, and it was just (that) he had really hit bottom. Then we didn't see him for like six months or nine months after that. And when he came back in the office, he looked like a totally different person – he had gained, like, 30 pounds back, he had his color back, his face was animated in a way that we'd never seen it. It was to the point where both the doctor and I hardly even recognized him.
DR: Sure.
CK: We both – you know, the doctor was just dying to find out, 'What did you do? How did you figure this out? Was it the 'this' diet, the 'that' diet? Was it this supplement treatment?' He said, "No. Actually it was the beer and pizza diet."
(laughter)
CK: We said, 'Oh, wait, we aren't familiar with that one. What's that about?' He said, "Well, at least two or three nights a week I made sure to go out my friends and have beer and pizza." That is what his friends did – he was a surfer, and, you know, his friends were young. They would just go out and drink pizza. So, he did that with the at least two or three nights per week, and the rest of the time he just ate what he wanted. He didn't go completely off the rails. He just, you know, didn't have the mentality of, 'I'm on a restricted diet.'
Of course, this isn't going to work if you have celiac disease, OK? Someone who has celiac can, at least in my experience, not just think themselves out of it with a change like this. They will continue to react if they eat beer and pizza. But for this guy, one of his main issues…he did have an initial illness, but the way that he responded to with was actually making it a lot worse. And, at some point, when he was able to realize that – it actually took him hitting bottom to the point where he was like, 'You know what? I don't care if die. I'm going to do this or I'm going to die. One way or another, something's going to change. For him, that change, that release of the pressure, and then the reengaging in his life – his previous relationship had ended; his girlfriend had left him because I think it was pretty horrific to be with him at that point – he was in a new relationship, and he decided he was going to go back to school and study, I think at that time he was thinking about naturopathy or something like that. So, he had a purpose – like, everything had shifted.
Sometimes there's more to life than health
CK: I tell that story because I think it's a good reminder for me and for my patients, that there's a lot more to health than food. And there's even a lot more to life than health. (That's) maybe a provocative thing to say on a health podcast…
DR: Right. (laughter)
CK: …but, you know. Or maybe put another way, health is a very broad term that's inclusive of a lot. And it's a lot more than just about what you eat and what supplements you take, and even how much you exercise. There are these other things that are harder to quantify, like social engagement, and connection, and service, and a sense of purpose, and all of that that don't get talked about enough.
DR: Absolutely. I couldn't agree more. And, that's a great story. I had a feeling it was going to take that kind of turn. Great story. It reminds me of when I go through my initial exam process with patients, one of the things I probe into is, 'What is your social life look like? Do you have time with family or friends or hobbies?' For the people who remark that those are zero to nothing, I really coach them and encourage them to take steps to reignite some of those things. Sometimes, those areas seem to be the areas where I, as a clinician, get the most push back. I think people don't think that those things really provide any healing. It's probably because so much of the dialogue in the alternative healthcare or functional medicine movement has to do with diet, dietary strategies, lab tests, pathways and supplements, and all these things. So, people don't think these things are important because they are often left out of the dialogue. But, as your story so beautifully encapsulates, it's very, very important. And, it's a great segue into two things I want to bring up – or I guess one hook I want to hang for later, which is I want to ask you before we end the call, what is the most enjoyable and what is the least health thing that you've done recently. So, I'll plant that seed right now.
(laughter)
CK: I'm in.
Fun things are healthy
DR: But, another one – and maybe we can spring into some stuff in this regard. Sometimes, or a lot of times, doing fun stuff, if you will, is actually very good for you, even though we don't realize it so much so on the surface. For example, something like a hike or spending time in nature has been shown to be an effective treatment for depression…
CK: Uh-huh.
DR: And in a lot of Asian research, they called it Forest Therapy. There have been numerous study designs, and I'll put some links to studies in the show notes for people (1a, 2a, 3a, 4a, 5a, 6a, 7a, 8a, 9a, 10a, 11a). But, they've shown decreases in depression, decreases in irritability, increases in vigor and energy in the group that had time in nature, some leisure time in nature. They did have a control group – they took another group of people and they gave them leisure time in a urban environment, and they didn't find the same increase in happiness scores in the urban environment – that may be because of some of the microbial exposure, perhaps, you get in nature, or maybe just the way we're hardwired being animals that likely come from nature. But, yeah, sometimes these really basic things, like going for a walk in the woods can be profoundly effective and cheap. And then if you have a friend come with you – boom, you've just brought in the whole piece about socializing.
Health and belief systems
CK: Yeah, exactly. So, I want to take one step back to what we were talking about before and just add that that I completely agree that in some cases patients don't take these things as seriously – let's call them the softer aspects of healing – as seriously as the more quantifiable stuff, like the diet and supplements. I think another issue, though, is that it's a lot harder to make those changes for most of us, you know? Some people might think initially, like, 'Geez, it's really hard to change your diet, to eat a strict paleo for 30 days. But really, when you think about it, that's nowhere near as hard as let's say making a commitment to meditate for a certain period of time every day, or making a commitment to spend more time with your friends. Because, in that latter situation, that actually requires changing your relationship with yourself, and, in some cases, grappling with some pretty deep patterns of behavior and some conditioning. So, to use an example: If you have a belief that you…you know, a pretty common belief in our society is (that) your self-worth is tied directly to what you accomplish. That's kind of a typical one in our world. If you have that belief, then you may always feel a kind of background stress, or anxiety, or a sense you should be doing more with work and accomplishing more and doing more -with work, and accomplishing more, and doing more of these tasks.
So, then if you commit to, like, some time for rest and leisure every day, it's not as simple as just deciding that you are going to do that. It's going to require every time that you stop to experience that leisure, or meditate, or whatever is committed to, you are going to bump up against that core belief system, right? It says that you can't stop because you need to be working harder in order to accomplish more, because that is where you derive your sense of self-worth. So, at the risk of getting a little too far out there, I think that's why it's so much more difficult for people to make those kinds of changes – because you really have to change your relationship with yourself; it's not just a question of putting a different food in your mouth when you sit down to eat.
DR: Yeah. And Tim Ferris has something that he says that I, the first time I heard it, it really kind of struck me. Which was: "It's easier for people workaholics than it is for them to work on their social life."
CK: Oh, yeah. Yeah.
DR: Because, if you're a workaholic, you just keep doing more of what our society trained you to do – which is just work, work, work, work, work, work, work. It's more of the same – it's just turning the wheel a little bit harder. When it comes to trying to cultivate maybe we could call it more of a European lifestyle, where you have more time with friends and more hobbies, that can require significantly more effort. A lot of people fall into that syndrome of working harder because it's easier, A., and like you are saying, B., it reaffirms this Western Society 'I am better if I have more' sort of mentality.
Blue zones
DR: There was a really good book written by Daniel Buettner called Blue Zones (2). Have you heard of this book, Chris?
CK: Uh-huh.
DR: And so, he went all over the world studying the the most healthy or the populations that live the longest. I read this book probably about three years ago, so I'm just going pick a few things out of the back of my head that I still remember. But, one of the things that really stuck out to me was level of income was not tied to happiness. In fact, he tells one story of this Asian woman who is a real estate tycoon, a multimillionaire compared to a little lady in Argentina who lives in a thatched roof hut.
CK: Uh-huh.
DR: And the lady in Argentina had so much less (things), but she had so much more free time, more time with her friends, and more sense of community then the Asian woman. And the Asian woman had everything, but she was highly insecure, highly unhappy, even though from the outside someone might say this woman has everything. So, that was one awesome piece that I took from that. A couple other things – He found a consistent relationship between the more time people have with friends, the happy they were; the shorter their commute, the happier they were. And if you live in the Bay Area of California, that's…
CK: That's why I commute to my home office in my house.
DR: Right.
CK: Except for the days I see patients, of course.
DR: Yeah, absolutely. He also found that the greater the divide between the rich and the poor, the less happy the society was. And, nowhere did he report people were highly obsessed with their diets. So, that was a really good read if people wanted to read a book that would motivate them as to the importance of some of these lifestyle things, in terms to how they translate to happiness.
CK: I would agree completely. It's just that, again, it's sometimes difficult to get your head around this.
Chris' health crossroad
CK: I am speaking from experience here. A lot of people probably know something about my story, but for those who don't – the reason I got involved in this field is that I struggled for years, over a decade, with a very severe chronic illness. And at one point, I got to the point where I had a complete physiological and emotional breakdown. I had just been struggling for so many years with it. It wore me down. It got to the point where I just basically fell apart. At that time, I was at kind of a crossroads. I felt like there….I just had no energy left to do another special diet, another treatment protocol, see another doctor. You know, I had already seen probably 15. I'd flown to different countries to see specialists. I had cupboards and cupboards full of supplements. I tried every diet that you can imagine. And, I hit bottom, and I was like, "I can't do this anymore."
And, I was in that place to that you mentioned earlier where it was like my whole life had been oriented around that, and I wasn't getting anywhere. So, I felt like I had a really crucial decision to make, and it was kind of like, 'Do I choose life no matter what is going on with my body and my health? Or am I going to continue with this idea that I have to be healthy, no matter what, to be able to enjoy my life?' And that was a really crucial crossroads for me because I decided that I was just going to live my life to the fullest no matter what was happening in my body. So, I created a kind of, you know, therapeutic program that was completely oriented around pleasure, connection, engagement, purpose, fun, time in nature, time with friends. So, I made sure to schedule walks or time with friends, preferably outdoors, several times a week. I started doing some improvisation and comedy-type of classes, acting classes…
DR: Nice.
CK: …which is something I've always enjoyed here in the Bay Area. I did a trade, where I was getting a regular massage a couple times a week in exchange for – I can't remember what I was offering; it really doesn't matter. But, I was doing this trade so I was getting bodywork regularly. I made sure to go surfing several times a week – that's something that's always brought me a lot of pleasure, and also makes my body feel good, even when I was really sick. It was something I could manage to do even if it was just, like, floating around out there. If I had no energy, even just getting out in the ocean and floating around on my surfboard was something that I knew would make me feel better. And I really didn't pay that much attention to what I ate during this period. I mean, sure, i wasn't eating candy and drinking Big Gulps and Twinkies…
DR: Sure.
CK: I was eating a reasonably healthy diet. But I would also have times, if I was out with friends or whatever, I didn't worry about it. And I'll tell you, after about six months of that, things really shifted for me. I really began to feel better in a way I hadn't for a long time. I think, later on I came to understand some of the mechanisms behind this. Like, we know that when you are experiencing joy and pleasure, your body produces endorphins. We know that endorphin deficiency is linked to a number of different chronic illnesses, including autoimmune disease. I wasn't thinking this way at the time, but later on in retrospect looking back at that period, it's like, yeah, that wasn't just about the psychological impact those changes had; they actually have a physiological impact that's measurable. That's what I'm trying to explain to my patients, because I think patients sometimes have the idea that this is all in your head. It's not. It's not all in the head at all. These choices that we make, if you decide to meditate on a regular basis – we have a lot of research showing what physiological changes that occur in people who are long-term mediators. You mentioned the measurable, physiological changes you can see in people who spend time in nature. We know about measurable physiological changes people experience when they have massage, or engage in sexual activity, or whatever it is. This is real, tangible staff; it's just stuff that hasn't really been focused on as much in our culture.
DR: Yeah, as you're making that example…first of all, it's awesome that you just took the initiative and did that. And just to reiterate something we were talking about before, sometimes it's the patients that are the most obsessed with their diets, that are the hardest to help. Because, sometimes if you over think almost anything, even a good thing, you can start to make it look bad, right.
CK: Yep.
DR: You just think about it too much. I just want to reiterate that. It reminds me of some things that I've done. I've had a similar but different sort of path, where I have a really strong bone, workaholic bone. And, at one point I was really just starting to lose my focus, my ability to think. And I'm starting to think, 'Am I hypothyroid?' The typical stuff I think anyone would go through. 'Am I hypothyroid? Maybe my adrenals are shot? Maybe my testosterone is low.'
And then I just stepped back from it, and I said, 'Jeez, you're working 12 hours a day. Do you expect to have extreme focus for 12 hours a day, six days a week?' There's no way.
CK: Uh-huh.
DR: So, I made a couple commitments – I committed to indoor soccer team on Wednesday night, and an outdoor soccer team on Sunday morning. And, what's nice about that is, when you make that commitment, it's really hard to blow it off.
CK: Right.
DR: So, I was held to that commitment, got some great exercise, met a lot of new people, had more of a community. That, in and of itself, was so, so helpful. It even reminds me of an example from just a few weeks ago. I had a really long week with a few projects closing and everything else; just really feeling feeling burnt out on Sunday morning. And I have a guy I carpool with, a really good friend of mine, to the games every morning. I woke up in the morning and said, "Hey, bud, really kind of beat. I had a long week. I'm not going to make it to the game." I never heard back from him. He busts through my front door, says, "Get your ass out of bed. You're going to the soccer game." And that was, actually, the best thing I could have done. Because, the rest of the day, I felt awesome. It completely got me out of the funk. I was out there with people, having fun. It was the quote/unquote medicine I could have had at that point, So, yeah, these things are really, really, really important.
So, something else I think is really helpful for people is music and dancing, or just having a little bit of fun. So, I'm not sure I will be able to share this, but I have a list of YouTube songs (3) – they are fun oldies that you can dance to and have some fun. I'll see if there is a way that I can share that through the newsletter, and I'll try to put that, if people want to see it. It's a list I can change; I think I have 15 songs in there, and I'm just kind of putting them in there for my ow personal use. But, I'll share that if it can benefit people.
Chris' best, worst healthy choice
DR: Now is a good time for me to ask, Chris. What was the worst thing that you've done for your health lately?
CK: Oh, man, that's hard to answer that, because the whole conversation we had, I just don't really see it like that anymore.
DR: Or maybe something someone could erroneously perceive as bad, is actually kind of good.
CK: Right. So, I do this thing each year, and shorter versions of it periodically, where it's like a personal type of trip or retreat. I just go and have fun and (I) don't think about any sort…you know, I don't hold myself…I never really hold myself to a diet, because that's not really my…I just eat well because I like that and I feel better.
I want to Nicaragua, and I went surfing. And every night I had chips and salsa, and I drank some local beers and just did not really pay any attention to what I was eating the whole time down there. And I felt great, you know? I'd wouldn't want to do that every…well, I don't know. Surfing in Nicaragua everyday – it might not be so bad.
(Laughter)
CK: But, the interesting thing about that too was, like, if I tried to do that in the context of my day-to-day life, it wouldn't work very well. But, it's a combination of, like, all of the other things that are happening at that time that are so, you know, support me and so many different ways. Like, the sun, and the ocean, and surfing, which is the thing that I love to do almost more than anything else. You know, being with a group of other people who enjoy those same things. I feel almost indestructible in that kind of environment, you know? Whereas, if I tried to drink beer and eat chips and salsa every night at home, in the context my day-to-day life, it probably wouldn't work out that well.
DR: Right, yeah. I think the dose is important to keep in mind. It makes me kind of think that we might be getting to a point now where, because there is so much information available on diet and some of these other healthcare interventions, that people have good information there. But, where people might be most efficient is with their lifestyle. That may be where people are really the most efficient in terms of need to make changes. Because, I think so many people, especially in this community, they are in the ballpark with their diets.
CK: Uh-huh.
DR: So, that's another conversation I often have to have to have with my patients, where they freak out sometimes because I don't give them laser-like, custom-tailored diets that are super, super black and white. For some people, they freak out. I just have to walk them through that. It's not usually, 'If you do or do not use cayenne pepper three times a week, that dose of nightshades is going to be the difference in you recovering or not.
CK: Right.
DR: So, I think that where we are probably the most efficient is just like we are talking about – some of these basic lifestyle things, like fun, friends, time in nature, and all that good stuff.
CK: Exactly. And I want to leave the listeners with one really useful concept that I got from my former zen teacher, Darlene Cohen, who passed away in late 2010 or very early in 2011. She was just an amazing, incredible person. She suffered from rheumatoid arthritis, and she had cancer twice. And yet, it never affected her spirit and joy for living. She was one of the most inspiring people I've ever met. And, as she also taught me a ton about how to live with pain and discomfort. And she talks about the value of distraction as actually as skillful means – a skillful thing that you can practice when it's done with awareness. And she had a special name for it: She called it "down and dirty comfort." There's a little passage from her book I'll read: She said, "Even though it's an ideal time to embrace the suffering or learn to dance with disaster, you don't care. Furthermore you don't care that you don't care. You've had it with trying to expand your consciousness. You hate life and everybody in it. Nobody else cares. Why should you? You're at the end of your rope. It's time for down and dirty comfort. What you need is whatever will get you through the next few hours."
So, she tells her own story of how, like, in the situation like that, you know, when she was just at her bottom, she would be lying on her bed eating bonbons, watching daytime something like that. It's like, in that place that just hit, you know, the pressure release valve for long enough period to where she could get back to the work that she really needed to do. And it might seem strange to hear zen teacher talk about the importance of distracting yourself, but that's one of the things I appreciated most about her. She didn't fit the mold, and she didn't ever try to fit the mold. She just constantly challenge conventional ideas about what it meant to be a spiritual practitioner and teacher, and just a person living in the world in a skillful way. So, you asked me what the least healthy thing that I've done recently – the Nicaragua store may or may not fit that bill for some people. But, I think there is a time and a place for doing something if it's going to bring you joy that isn't on, you know, your list of what you consider to be healthy.
DR: I agree completely, and I didn't know that she passed. I really, really enjoyed her book, The One Who is not Busy. I really, really loved that book. It's sad; I didn't know she passed.
Episode wrap-up
DR: Well, my man. Thank you so much for coming on the show. I really hope that this conversation helps people, especially if you're someone listening and you're struggling. I know it's really easy to lose sight of some of things that we've talk about. But hopefully, between Chris and I's discussion, it helps you and maybe ignites you to put a little more effort and energy into those things. I really think those will yield you dividends in the end.
CK: Well, thanks for having me on the show, Mike. It was a pleasure. Good luck with it. I know I feel better knowing that you are out there with this show, because I really have a lot of respect for you and your work. So, keep up the good work.
DR: Thanks, Chris. And the same applies to you. And thanks again for coming on.
CK: All right. Take care.
Thank you for listening to Dr. Ruscio Radio today. Check us out on iTunes and leave a review. Visit DrRusso.com to ask a question for an upcoming podcast. Post comments for today's show and sign-up to receive weekly updates. That's D-R-R-U-S-C-I-O.com.